1.Description:
PS700A is a kind of material with high crosslinking density and certain elasticity, more than 30% elongation at break, dense coating and low water absorption . PS700A is the state of the art 100% solids, ultra fast cure, flexible, spray-applied, high build, and two components aromatic pure polyurea elastomer. The system consists of an isocyanate semi-prepolymer, Poly-amine resin, and a pigment. PS700A is relatively moisture and temperature insensitive, allowing application in the most problematic ambient conditions. It is the optimum choice where a tough, flexible, impact resistant, abrasion resistant, heavy-duty, anti-corrosion coating system which exhibits extraordinary performance characteristics. High performance of resistance to acid,alkali,salt,sulfide. No bubbles and peeling when long term immersion in liquid. Weather resistant,no powdering and cracking when enduring the impact of cold and hot weather.
2.Features:
● Without any thinner, environmental protection,high performance of resistance to acid,alkali,salt,sulfide
● Elongation, high flexibility, can adapt to the basic cracks and slight deformation;
● Good aging resistance, Excellent mechanical and chemical properties
● Fast curing, can be sprayed on any surface, slope, vertical surface;
● Convenient construction, spraying a film.
●
Working by machine
3.Performance: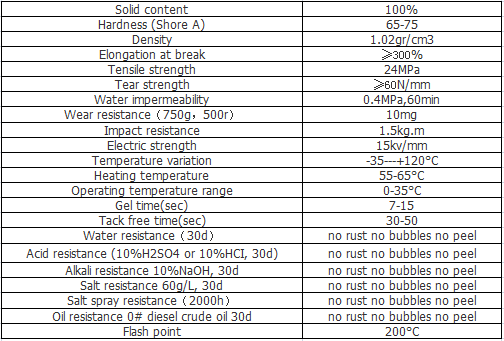 4.Applications:
Petrochemical tank ,natural gas,municipal,urban drainages, tower,tank-washer,pipeline ,sewage pool.
5.Package:
Two-component, A component 220KG / 200L barrel, B component 210KG / 200L barrel.
6.Storage/Shelf Life:
Ideal storage condition is 5-35 ℃ in cool and dry place, avoid direct sunlight. / Nine months