1.Description:
PS500E is a kind of material with high crosslinking density and certain elasticity, more than 30% elongation at break, dense coating and low water absorption . PS500E is the state of the art 100% solids, ultra fast cure, flexible, spray-applied, high build, and two components aromatic pure polyurea elastomer. The system consists of an isocyanate semi-prepolymer, Poly-amine resin, and a pigment. PS500E is relatively moisture and temperature insensitive, allowing application in the most problematic ambient conditions. It is is seamless, ultra high strength, high-elongation, impact resistant, anti-corrosion, and aging resistance.
2.Features:
● Without any thinner, environmental protection,high performance of resistance to acid,alkali,salt,sulfide
● Elongation, high flexibility, can adapt to the basic cracks and slight deformation;
● Good aging resistance
● Fast curing, can be sprayed on any surface, slope, vertical surface;
● Convenient construction, spraying a film.
3.Performance: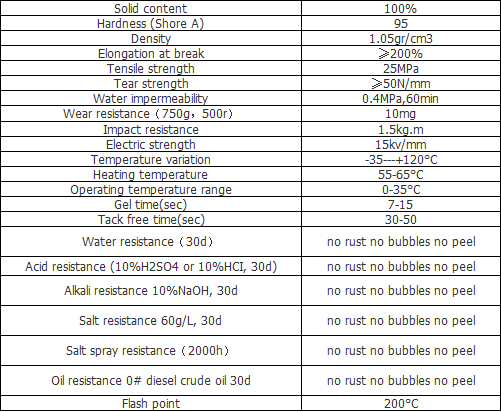 4.Applications:
Movie props,loudspeaker box, furniture
5.Package:
Two-component, A component 220KG / 200L barrel, B component 210KG / 200L barrel.
6.Storage/Shelf Life:
Ideal storage condition is 5-35 ℃ in cool and dry place, avoid direct sunlight. / Nine months