1.Description:
PS500D Sewage Treatment Pool Polyurea Anti-Corrosion Waterproof Protective Coating is a 100% solids, two-component, fast curing, high-performance on-site spray molding materials. The product is mainly composed of an isocyanate semi-prepolymer, Poly-amine resin, and a pigment, which has the advantages of high strength, good performance and quick construction .Based on the high reactivity and fast curing property, it can be sprayed forming at any bent, inclined and vertical surface without sagging. With super adhesive strength and impact resistance characteristics, the coating is flexible, impact resistant and seamless that able to completely insulate air and water and oxygen penetration. It integrated anticorrosion, waterproof, wear resistance, aging resistant performances, no pulverization and crack peel up or fall down after long- term outdoor work with alternating ambient conditions of cold, heat, rain and snow. It is the optimum choice where a tough, flexible, impact resistant, abrasion resistant waterproofing system which exhibits extraordinary performance characteristics.
2.Features:
● Without any thinner, environmental protection;
● Elongation, high flexibility, can adapt to the basic cracks and slight deformation;
● Good aging resistance
● Fast curing, can be sprayed on any surface, slope, vertical surface;
● Convenient construction, spraying a film.
3.Performance: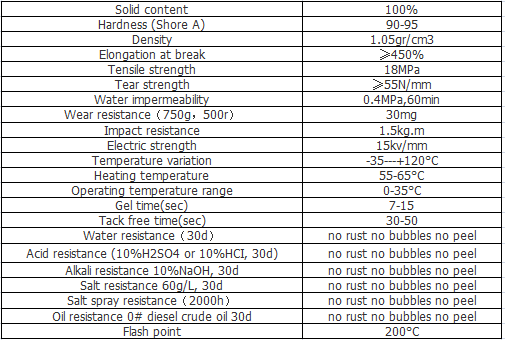 4.Applications:
Chemical plant sewage treatment tank, accident pool, urban sewage treatment tank, Anti-corrosion and waterproof treatment of various industrial and urban sewage pools.
5.Package:
Two-component, A component 220KG / 200L barrel, B component 210KG / 200L barrel.
6.Storage/Shelf Life:
Ideal storage condition is 5-35 ℃ in cool and dry place, avoid direct sunlight. / Nine months