1.Description:
PS600A is a kind of material with high crosslinking density and certain elasticity, excellent wear resistance. This polyurea material is a high performance material with 100% solid content, double group, fast curing and field spraying molding. The product is mainly composed of an isocyanate semi-prepolymer, Poly-amine resin, and a pigment, with high strength, good performance, quick construction of a single molding without seams and other advantages.
2.Features:
● Without any thinner, environmental protection;
● Elongation, high flexibility, can adapt to the basic cracks and slight deformation;
● Good aging resistance
● Fast curing, can be sprayed on any surface, slope, vertical surface;
● Convenient construction, spraying a film.
3.Performance: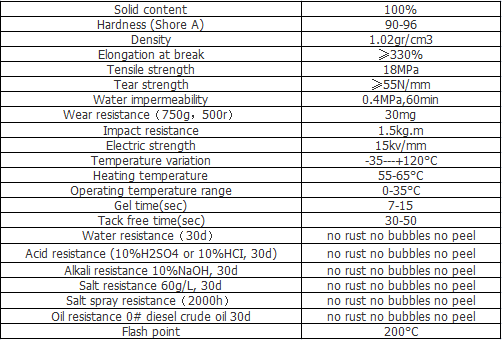 4.Applications:
Pickup trucks, light trucks, containers, garbage trucks, etc.
5.Package:
Two-component, A component 220KG / 200L barrel, B component 210KG / 200L barrel.
6.Storage/Shelf Life:
Ideal storage condition is 5-35 ℃ in cool and dry place, avoid direct sunlight. / Nine months