1.Product Description:
PS600D is a %100 solid with a unique chemical synergistic product of aliphatic and aromatic polymers. fast curing, 2 component, UV light resistant, aliphatic pure polyurea system. Its formulation is designed for maintaining high color stability and preventing discoloration where surfaces are exposed to sun light continuously. While it can be directly used on most surfaces, it also can be used as a top layer on epoxy, polyurethane and
Polyurea Coatings
. After fully cured, it forms a coating material with high tensile strength and abrasion resistance. For protection and coating purposes, it can be applied on concrete, metal, wood, ceramic and PU foam. It can form strong films in wide variety of thicknesses. The material must be applied utilizing high pressure, heated plural component spray proportioning equipment. PS600D can be used as a stand-alone product or as a topcoat for aromatic polyureas, polyurethanes or mixtures.
2.Features:
● Excellent color stability ,100% color stability and gloss retention
● Excellent wear resistance. Excellent UV light resistance
● Good adhesion
● Extend the gel time to provide a smoother, more uniform surface. Very good tensile and structural strength
● Form a monolithic film that can be handled and walked two minutes or less after spraying
● 100% solid content, Solvent-free, No VOC
● Can be stacked to any thickness in one application Excellent adhesion on concrete, steel, aluminum, plastics, wood, etc
● It is drying working temperature up to 93 °C, intermittent temperature up to 121 °C high drying temperature stability. Temperature and humidity insensitive.
3.Application:
● Polyurethane foam roof. Roofs, garages and parking lots
● water features.
● Tanks, ponds and lagoon containment linings.
● walls, meat ceilings, dairy processing plants.
● Aquatic animals, waterwheel basins and animal habitats.
● Airports, shipyards and marina
● Truck base and chassis liner.
● Encapsulate the structural steel to protect and delay the formation of rust.
● packaging lead, low radioactivity and asbestos pollution surface
4.Performance: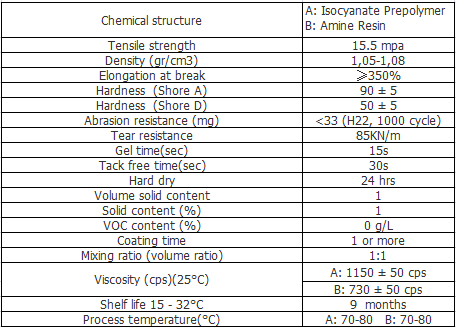 5.PACKAGING:
210 kg /barrel (Amine side) 220 kg/ barrel (Iso side)